Welcome to St. John the Baptist
Lent is a 40 day season of prayer, fasting, and almsgiving that begins on Ash Wednesday and ends at sundown on Holy Thursday. It's a period of preparation to celebrate the Lord's Resurrection at Easter. During Lent, we seek the Lord in prayer by reading Sacred Scripture; we serve by giving alms; and we practice self-control through fasting. We are called not only to abstain from luxuries during Lent, but to a true inner conversion of heart as we seek to follow Christ's will more faithfully. We recall the waters of baptism in which we were also baptized into Christ's death, died to sin and evil, and began new life in Christ.
---
The Stations will be held in English EVERY Friday at our sister Parish St. Thomas at 6:30 PM. Click this link for: Stations of the Cross Prayer and Worship Aid from St. John. You may pray the Stations at home with the aid above from St. John's, or by walking with us in person, or by viewing from home on Facebook LIVE every Friday during Lent
---
All are welcome to view Masses LIVE streamed from St. John's below
---
---
We rely on our Sunday collections to help provide the needs of our Parish Community. You may mail in, or drop off your envelopes. You may also donate online.
Click here to donate to St. John the Baptist
---
Sign-up for Masses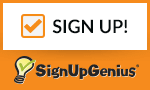 Click HERE to signup for Mass or call Parish Office to register for Mass at EITHER Parish. Masks are mandatory.
---
Click here for Events
---
We want to stay in touch with you. Please text PARISH to 42828 to be added to the official St Thomas & St John email list.
---
Please CLICK HERE to access the new webpage for COVID-19, Mass Updates, Times, and LiveStream Masses.