Welcome to St. John the Baptist
Jesus Christ is Risen, He is truly risen!

Easter blessings to you. The word "Easter" comes from Old English, meaning simply the "East." The sun which rises in the East, bringing light, warmth, and hope, is a symbol for the Christian of the rising Christ, who is the true Light of the world.
---
All are welcome to view Masses LIVE streamed from St. John's below
---
---
We rely on our Sunday collections to help provide the needs of our Parish Community. You may mail in, or drop off your envelopes. You may also donate online.
Click here to donate to St. John the Baptist
---
Sign-up for Masses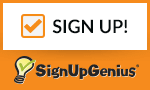 Click HERE to signup for Mass or call Parish Office to register for Mass at EITHER Parish. Masks are mandatory.
---
Click here for Events
---
We want to stay in touch with you. Please text PARISH to 42828 to be added to the official St Thomas & St John email list.
---
Please CLICK HERE to access the new webpage for COVID-19, Mass Updates, Times, and LiveStream Masses.